Here is a very odd and very old film. FGSR 5375 is actually Fine Grain Sound Recording Film. It was originally developed for use in professional movie cameras that also recorded a sound track with the motion picture. This will work just like normal slow-speed B&W film in your regular 35mm still camera.
The "sound track" is just a teeny little strip about 2mm wide on the outside of the sprockets and does not interfere with your image.
I was lucky enough to get a large quantity of this film from a military surplus sale and it is obvious that it has been stored very well because it is still giving surprisingly usable images. It's probably been sitting in a bunker somewhere for the past 50 years!
This unique film has been used in some interesting projects over the years. Here are a couple of links for reference:
-
1982 Sacramento Peak Observatory Solar Photography
-
1973 M.I.T. Strobe Lab Elastic Ballistics
You can also see more pictures shot with this unique film in the:
LABEAURATOIRE FLICKR GROUP
This is certainly not the best quality film you can buy, but it is not expensive, (especially when bought in bulk!) It's fun and gives nice vintage-looking results. It has a gray base and has gained some grain over the years. It should be shot around ISO/ASA 16.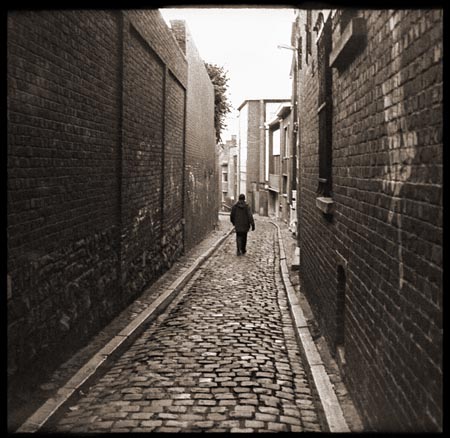 Here's your chance to try out this exciting film. I'm making some rolls available for your experimenting pleasure. This batch expired in February 1963, but it still works well as you can see from my test examples.

I'm keeping these rolls inexpensive by re-using old film cassettes and sticking on an artsy label I've made just so you know what's inside. Using a bulk loader I made rolls of approximately 20 exposures each, sometimes a bit more or less and as with most bulk loaded film the very last picture of each roll will not be exposed as that is where it is taped. 100ft Bulk Rolls of film will be wrapped in black plastic and then covered in aluminum foil before being packed for shipping. This is NOT a stock product from Kodak and I am not proporting to represent that fine company in any manner.

My examples were shot using a Canon EOS Elan 7ne. All developed in Labeauratoire's Caffenol Concoction for about 16 minutes at 20°c (or 68°f.)