ORWO PC7 is possibly some of the strangest film I have ever encountered. Apparently it is a color "Positive Motion Picture Film," originally intended for making color duplicates from movie film but I have not yet found a process that will produce recognizable colors. However, luckily it produces magnificent results when developed in B&W chemistry. The spectral sensitivity is quite odd and the grain is super fine. It came out great in my
Caffenol Concoction
as you can see by clicking this photo below: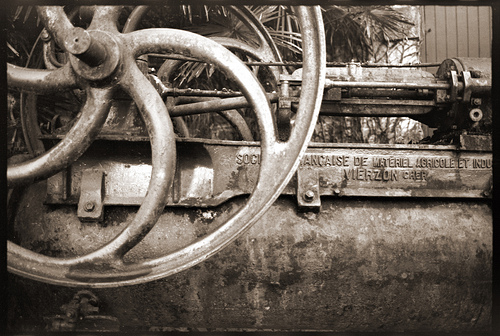 But when I dropped it off for C-41 processing, I got some of the weirdest results I've ever seen. The emulsion appears to have a crystalized grid of huge dots like a pointalist painting.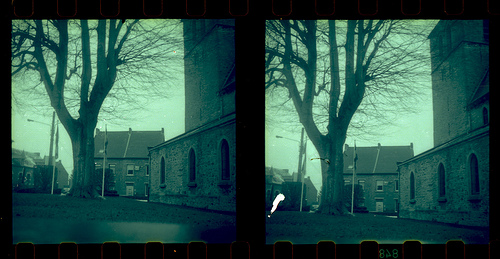 Camera: Canon EOS Elan 7ne / Developer: vintage ORWO
This film was obviously intended to be developed in some kind of proprietary chemistry from ORWO. I had a friend develop some in vintage ORWO Color Negative Chemistry The results were different, but not necessarily better. Though you can definitely detect some yellows and reds:
In any case it is certainly an interesting film and will be fun to experiment with. It produces wonderful results in B&W and
it should work well in
most B&W developers such as Rodinal or D-76 but might also provide interesting results with specialized developers. Try my
Caffenol Concoction
to get results similar to those shown in my examples.

This vintage emulsion is from a stock of old motion picture lab film produced in the early 1990s. It produces images with a very unique quality and is definitely unlike any other film I've ever encountered. I have not yet tried using any filters with this film but your experiments will surely discover some interesting results!

I recommend starting with an ISO of around 7 then expanding your experiments from there. There is no DX code on this film so you'll need a camera capable of manually setting the film speed. Previously only sold in large cans of 1000 feet or more, I have cut it down in to convenient rolls of 20 exposures ea. Perfect for experimenting with this rarely-seen emulsion.
I had the opportunity to buy a small quantity of this exciting film and I'm making a limited amount of these rolls available for your experimenting pleasure. Get some now before it's gone forever.
My examples were made using several different cameras and developers. A light sepia tone has been added with Photoshop to some of the images I developed in my
Caffenol Concoction
, which were processed for about 15 min. @ 20°c.

I'm keeping these rolls inexpensive by re-using old film cassettes and sticking on an artsy label I've made just so you know what's inside. Using a bulk loader I made rolls of approximately 20 exposures each, sometimes a bit more or less and as with most bulk loaded film the very last picture of each roll will not be exposed as that is where it is taped. This is NOT a stock product from ORWO and I am not proporting to represent that fine company in any manner.


CLICK ANY PHOTO TO ENLARGE