The Valca brand has a fairly long reputation in Spain, but most of us outside the Iberian Peninsula have never heard of it. It seems Valca Film was much-loved from what I can gather in the numerous archived Spanish reports about the factory's unfortunate demise in 1993.

The name "Valca" is a tribute to the area where the factory came to be built, by combining letters from the Valle de Mena (Mena Valley) and the Rio Cadagua (Cadagua River) which runs through it. Four Basque families, started the factory in the town of Sopeñano on the banks of the Cadagua River.

During the mid-century decades, they grew in production of black & white negative film and x-ray materials, providing Spanish photographers with an affordable option to imported films.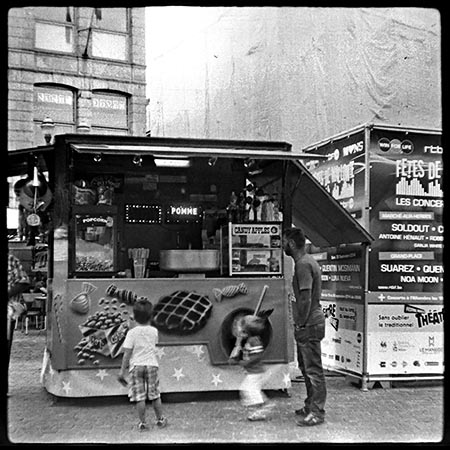 Here you can see the original Valca cans containing this film.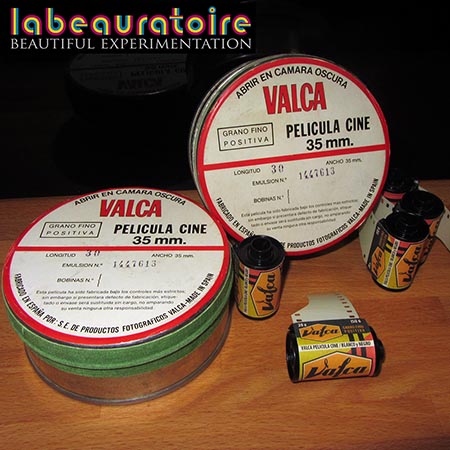 And the labels I've made for it based on vintage Valca designs.
After several tests I've rated it at ISO 6 and as expected it has gained some base fog and grain size from age. Check my results developed in our
Labeauratoire's Caffenol Concoction.
And you may enjoy experimenting with other developers as well.
You can also see more pictures shot with this, and other unique films in the:
LABEAURATOIRE FLICKR GROUP
Here's your chance to try out this rare film. I'm making some rolls available for your experimenting pleasure.


I'm keeping these rolls inexpensive by re-using old film cassettes and sticking on an artsy label I've made just so you know what's inside. Using a bulk loader I made rolls of approximately 20 exposures each, sometimes a bit more or less and as with most bulk loaded film the very last picture of each roll will not be exposed as that is where it is taped. This is NOT a stock product from Valca and I am not proporting to represent that fine company in any manner.

PLEASE

CLICK HERE

TO READ MY UNABRIDGED REPORT ON THE DEMISE OF THE VALCA FILM FACTORY AND TO SEE MORE INFO ON THE FILMS THEY MADE THERE.